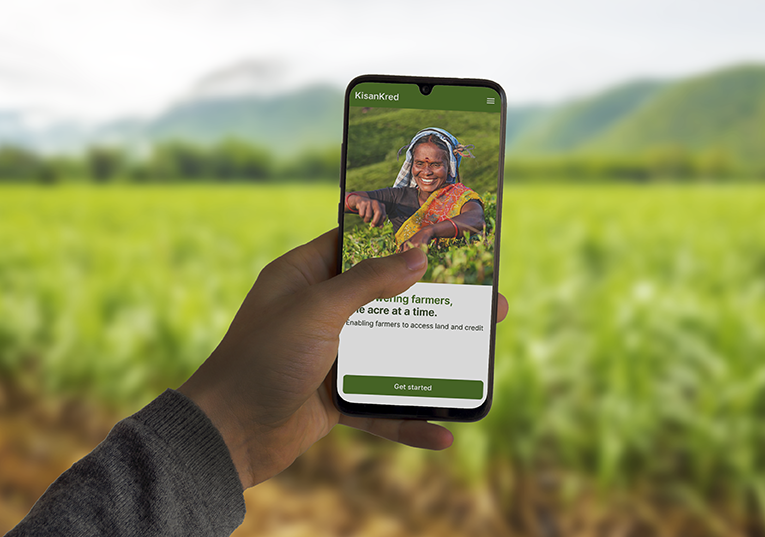 Meet Sattappa Kerur.
Sattappa is a partner-farmer for a large sugar manufacturer. He owns 1.7 hectares of land in Kuligod, Karnataka.
Like many neighbouring farmers in the district, Sattappa struggles to save enough to upkeep his land and invest in new equipment. Any profits he earns go directly into the daily maintenance of farms and supporting his family. He has no choice but to rely on cash to meet his daily needs.
Sattappa remains ambitious – He has been a steady supplier of sugarcane crop for his client and hopes to procure more land so that he can produce and sell more sugarcane. He wants to increase his yield and profit so that he can improve his family's living conditions and send his children to an English medium school. However, he lacks the knowhow to demonstrate his creditworthiness and secure a loan. He is also wary of leasing land from unreliable sources.
---
The Problem
50% of India's population is employed in agriculture and allied sectors. Sattappa is among the 87% of Indian farmers known as 'smallholder farmers' or SMFs, who own less than two hectares of land. Because of the small size of their plots, they collectively own only about 47% of land under cultivation.
A small plot of land generates only enough yield to feed and support the farmer's family, any meager surplus goes back into the land. Unseasonal drought or floods can have a devastating effect on farmer livelihoods. The inequitable distribution of land, along with several other factors, prevents the country from producing to its full capacity.
Farmers may favour growing cash crops or practice monoculture farming, use excessive fertilizers and over-tilling. This may increase yield in the short term, but long-term effects on the land are disastrous. According to a study conducted by the Council on Environment, Energy and Water (CEEW), less than 4% of farmers have adopted Sustainable Agriculture Practices (SAPs).
In spite of government efforts, roughly 40% SMFs have access to formal credit. This leads farmers to seek out informal loans at exorbitant interest rates, pushing them further into poverty and indebtedness and creating a vicious cycle of subsistence.
Banks and NBFCS are unable to cover SMFs for a number of reasons, including:
It is difficult to measure their creditworthiness using standard underwriting methods
The cost of acquiring farmers is high, when compared to low loan amounts
Remoteness of farmers makes them difficult to access
Rays of hope in agritech
However, increased interest and funding for agritech in the startup community, compounded with the government's drive to double farmer incomes, offer a ray of hope. There has been a recent push towards developing agri-tech solutions to tackle various challenges that farmers face along the agriculture supply chain. More pertinently, startups have been exploring tech-enabled ways to assess farmer creditworthiness, such as using satellite data to capture on-ground conditions and develop risk assessments.
Developments at the policy level are similarly encouraging…
Our Solution: KisanKred
A platform that matches farmers with land and credit, while promoting sustainable agriculture.
At BRND Studio, we like to tinker with complex problems and devise solutions using human centered design. The team took on the challenge of helping farmers break this vicious cycle of subsistence. At the same time, we also wanted to increase adoption of sustainable farming practices.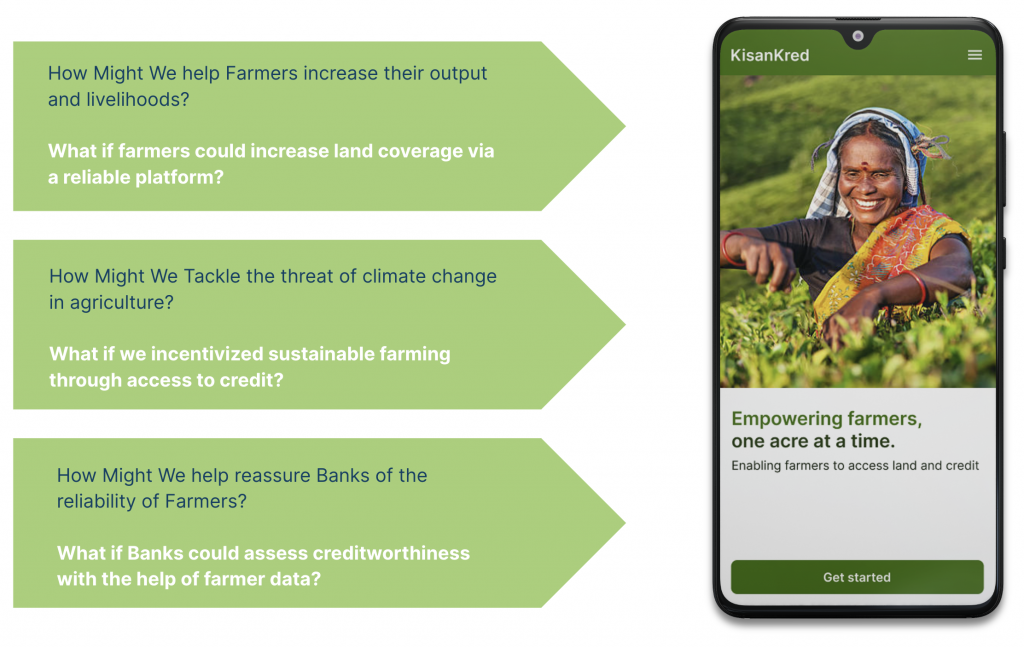 This product concept focused on the two primary challenges we identified in our research:
Enable SMFs to increase their land coverage, by leasing and consolidating smaller plots SMFs who carry the bulk of the load of India's agri output, have limited access to credit and financial products which they can use to upgrade their equipment, invest in better quality inputs/seeds and secure their family's future.
Provide better access to financial support and avenues to build credit. Increasing farmers' wealth will empower them to:

Adapt best practices, purchase of better quality seeds, equipment
Invest in learning new methods
Discourage them from practicing poor farming practices
Lead to better quality of output
Our concept is based on the hypotheses that,
Agri programs can perform the role of 'financial guarantors' for farmers under their purview.
Field staff have the capacity to perform the combined role of providing assisted digital literacy and promoting sustainable practices.
When Banks/NBFCs receive reliable farmer data and assurances from programs, they may be able to acquire a previously untapped and significantly large market.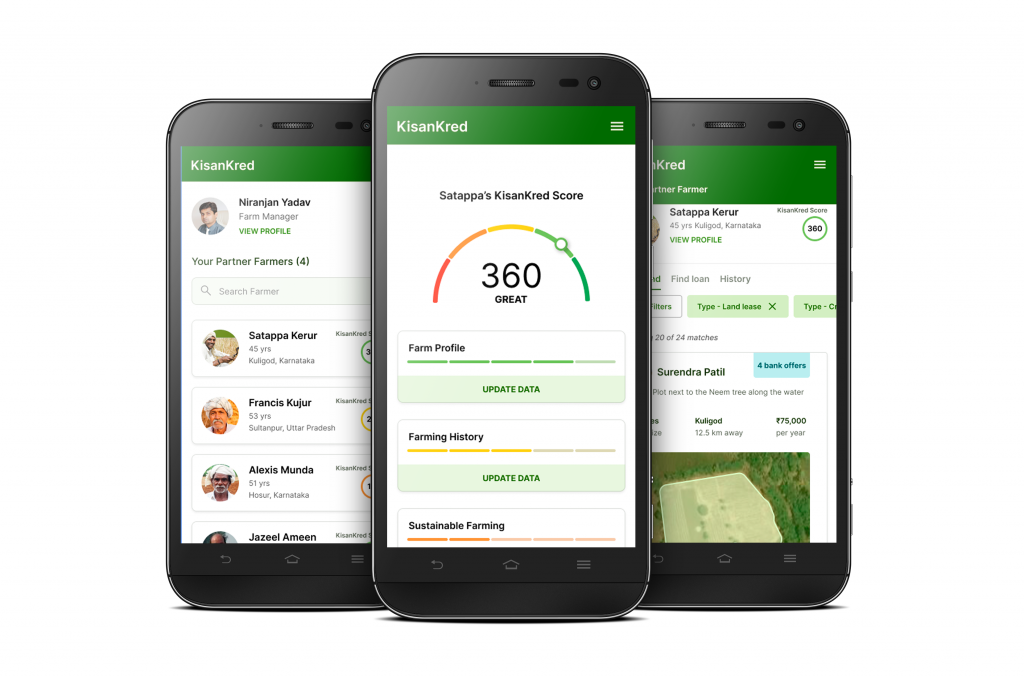 What makes KisanKred unique
KisanKred Score
A dynamic score that is calculated from two broad parameters collected on farmers:
Implementation of Sustainable Agricultural Practises (eg. Organic farming, crop rotation, rainwater harvesting)
Background of the Farmer and their Farm (eg. farm size, crop history, cattle, irrigation, women-led farms)
Banks/NBFCs can use KisanKred score to assess creditworthiness of farmer-customers. The score combines scientific assessment with underwriting criteria developed by Banks & NBFCs. As a result, farmers can be matched with relevant financial products (loans, insurance, savings etc.).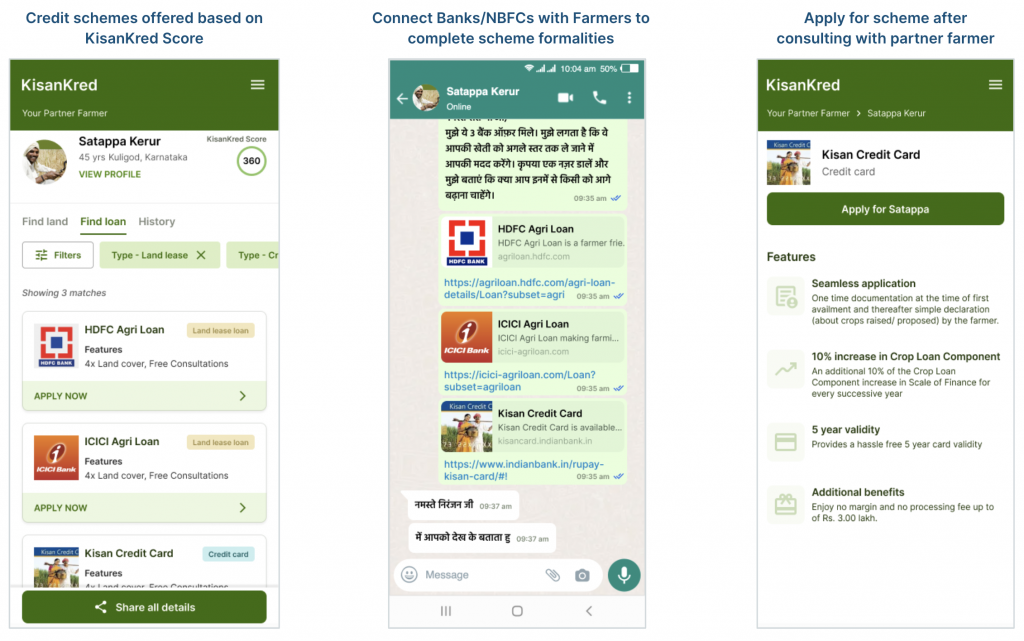 Land-matching algorithm
A search engine specifically designed to suggest leasable land nearby, based on the farmers' search criteria and score.
Farmers are matched with land to lease across geographies, leading to an increase in SMF's landholdings and ability to apply sustainable practices on fallow or unused land.
Program-level implementation
In order to achieve impact at scale, the platform is available to large agricultural programs and government-supported initiatives that enrol hundreds or thousands of farmer partners through a network of on-ground field coordinators.
Digital adoption and smartphone use is still comparatively low among farmers. This suggests that an assisted model might be more effective than going direct-to-farmer. Again, trust plays an important role for farmers who may be wary of unknown, non-local representatives.
Advantages of this approach:
Leverage the trust and existing relationships of program field staff to onboard farmers
Many programs already collect farm data, which can be digitized and complemented with geospatial data to generate robust farm-level monitoring
Better access to remote farmers, and greater accountability through association with large-scale programs
Field staff perform the role of capacity builders, helping farmers adopt better agricultural practices including SAPs.
How it Works
Since a farmers' access to land and credit increases as their score improves, KisanKred incentivizes sustainable agriculture adoption.
KisanKred creates a virtuous cycle for farmers to build credit
KisanKred is based on the premise that existing relationships, supply chains and trust that farmers have with local/regional field staff and officials can be leveraged for mutual benefit to all stakeholders. The stakeholder ecosystem remains tight, while the acquisition funnel is wide.
Benefits for key stakeholders
Partner Farmers & Landowners
Increase yield and incomes
Expand their business, emerge out of poverty and subsistence
Receive formal coverage from financial institutions
De-risk land leasing through a secure process managed by the agri-program
Digitize paperwork for leasing
and financing
Ability to invest in better implements and equipment
Agri-Business & Govt-run Programs
Increased yield results in improved supply and
Increased access to credit enables farmers to purchase better quality of raw materials.
Improve land utilization
Increase trust and loyalty among partner farmers
Promote adoption of sustainable farming practices
Banks / NBFCs
Increase access and coverage to even remote farmers
Reduced risk of acquiring and financing farmers
Capture reliable farmers, through assurance of agri-business
Meet the Priority Loans target mandated by the govt.
At BRND Studio we believe solutions like KisanKred can be game-changing for millions of Indian farmers. Our goal is to help them get out of subsistence farming and closer to achieving their dreams of a better life.
Our solution prioritizes a farmer's immediate need to obtain credit and increase land coverage, and uses this as the motivation to adopt better farming practices. This product is currently in the concept phase, if we were to go-to-market, our approach would be to partner with interested large-scale programs and Banks/NBFCs to build the entire ecosystem. Our role would be to bring in the voice of the farmer and key stakeholders throughout the process, to ensure we are solving for their needs, in order to deliver outcomes that are user-friendly and effective.