In India, nearly 100,000 children go missing every year. Aangan is a nonprofit that builds and strengthens child protection systems to ensure that the most vulnerable children are safe, supported, in school, and assured of childhoods free from trafficking, child marriage, hazardous work, violence, and exploitation. The organisation believes that keeping children safe is not the job of any one sector, department or official.
Aangan wanted to scale its impact to reach its target of 10x children. The increase in mobile phone usage all over India created an opportunity to take Aangan's programs digital. We designed two solutions that would enable both scalability and efficiency.
Expertise
UX Research
Service Blueprints
Product Strategy
UX/UI Design
Branding
OUTCOMES
Two new data collection apps, Bharosa and SafCa, were designed and developed
After a successful pilot of the Bharosa program across 25 police stations in Bharatpur district, Rajasthan the app is currently being rolled out in Bihar.
Interactive Dashboards can be shared between various levels of authority across the state
Ran a successful pilot of the SafCa program to audit 35 orphanages in Nagaland, which was followed by a rollout in 3 states – Punjab, Odisha and Karnataka.
Improved accuracy and reduced time to receive insights from field data from 1 month to real-time.
APPROACH
In 2018, Aangan trained 6,163 women and engaged 1,854 officials to impact 1,60,484 children. 3,75,872 hard-to-reach vulnerable children were made safer in 2019-2020. These results have been achieved through multi-layered programs that empower community members at the ground level and include reporting systems to keep officials at the district and state level informed about activities and impact.
Data from the field was being collected manually on handwritten forms. This led to issues of accuracy and reliability; furthermore, the time taken to sort through surveys to derive insights was a time-consuming process.
A need-finding workshop with Aangan's team provided a detailed view of some of the challenges faced by the three primary stakeholders we would be designing for: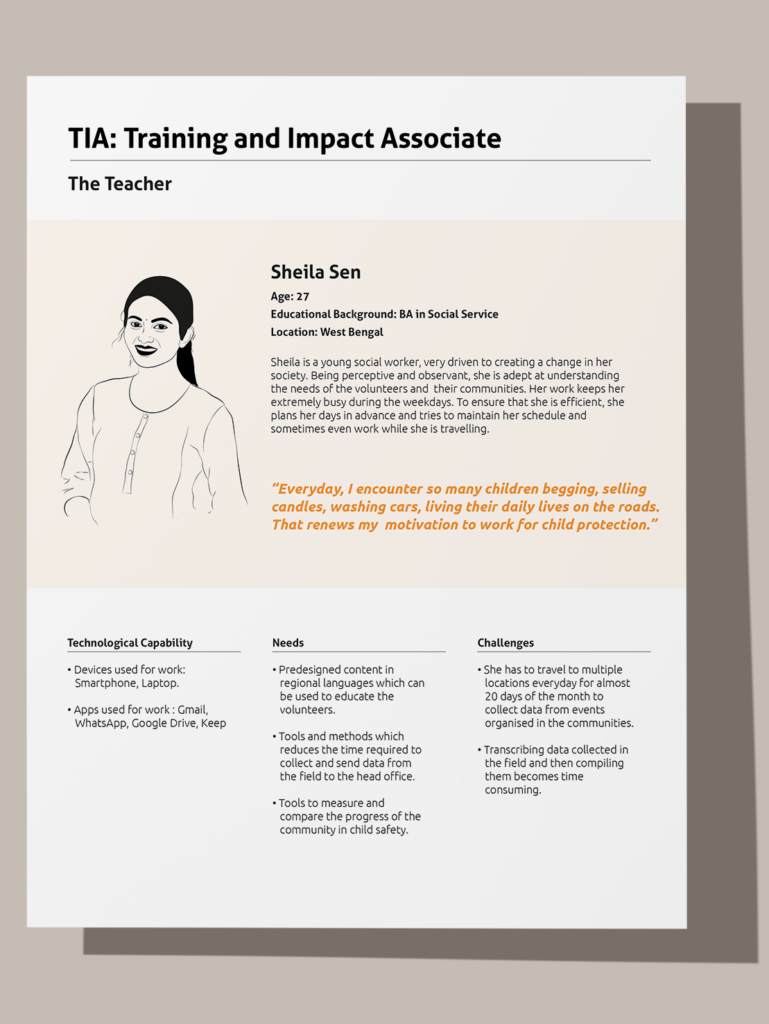 Core Team
Finds manual cumulation of data from different locations twice a month difficult.
Often left with less time for in-depth comparison with historical data.
Training & Impact Associate
Travelling to multiple locations for 20 days of the month is difficult.
Collecting, transcribing and compiling data collected from community events is taxing.
Data Collector – Community Volunteer
Has to manage the survey work along with her household responsibilities.
Faces a learning curve involved with digital devices.
We then built a service blueprint that mapped out all the touchpoints that had to be considered. Our research and collaboration with Aangan's core team led to the creation of a family of products that would transform some of Aangan's on-ground efforts into digital data, and which could be accessed by field staff and government officials alike. The goals were to increase the reach of activities and reduce time taken to complete tasks without compromising on accuracy.
Two concepts were developed into working prototypes and then developed for launch:
Safca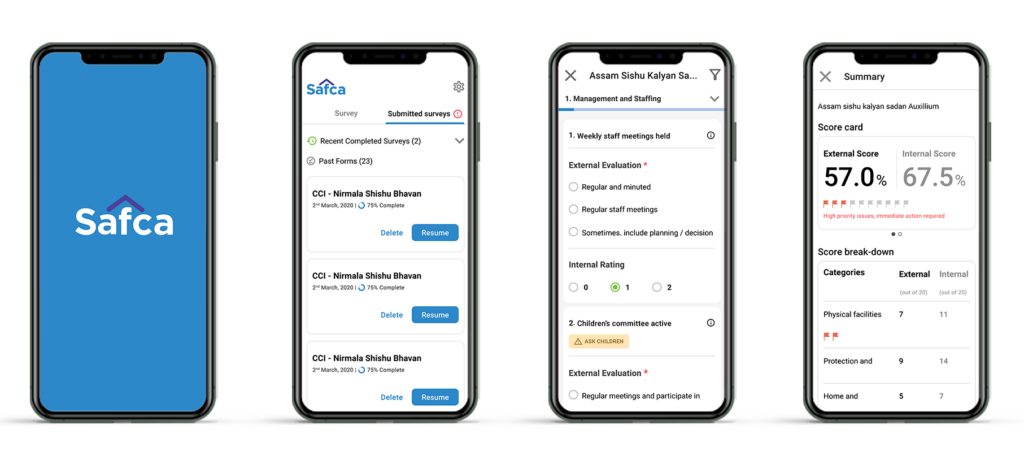 Enables Aangan representatives to audit rescue homes and shelters by completing a detailed survey that tracks critical aspects. Inputs provided generate a score for each center.
Bharosa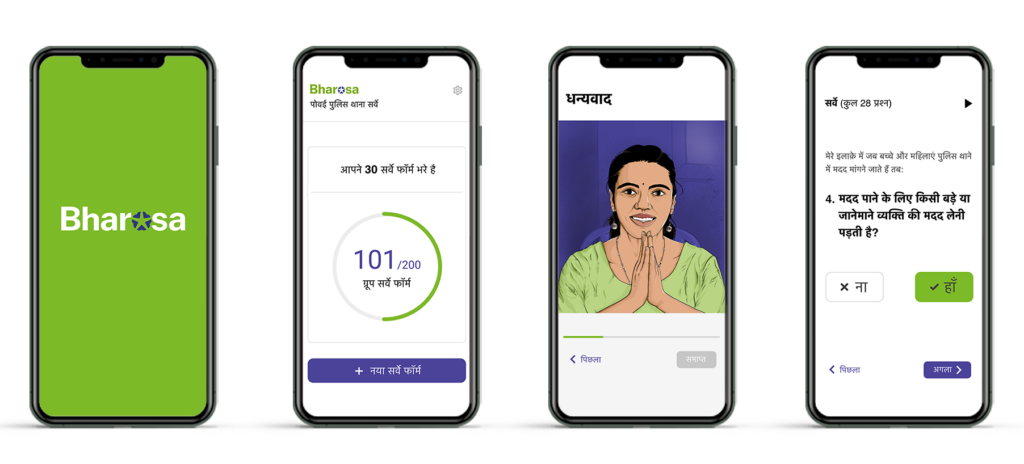 Bharosa is a feedback program where community members rate their police station (or thana) for its responsiveness towards women and children. It comprises a data collection app along with an analytics dashboard that generates insights at the thana, district and state level.
Through the Bharosa program, Aangan created structures for the police to engage regularly with women and girls, building trust between communities and the police in the process and creating pathways to increase early reporting of child harm.
When designing Bharosa, we had to devise solutions for various user-specific challenges we encountered:
Low Literacy Added voice recording of all content on the screens and simplified the content.
Confidentiality Volunteers and Community member's name, contact information or IMEI numbers are not collected, ensuring anonymity.
Low digital literacy Applied Design Thinking process to make the product intuitive.
Content Sentiment Ensure survey language feels personal and maintains sensitivity.
The Bharosa app is designed for community members. The language used had to be colloquial and appropriate to the literacy and dialect of the user. The app was translated into Hindi since the pilot was conducted in Rajasthan, and has the scope to be translated into multiple languages as the program scales. The audio component allows users to listen to the questions if they are unable to read them on the screen.
Surveyors reach out to women within the community to answer 28 questions about the local police thana. Digitising this process makes it easier to collect responses quickly and accurately.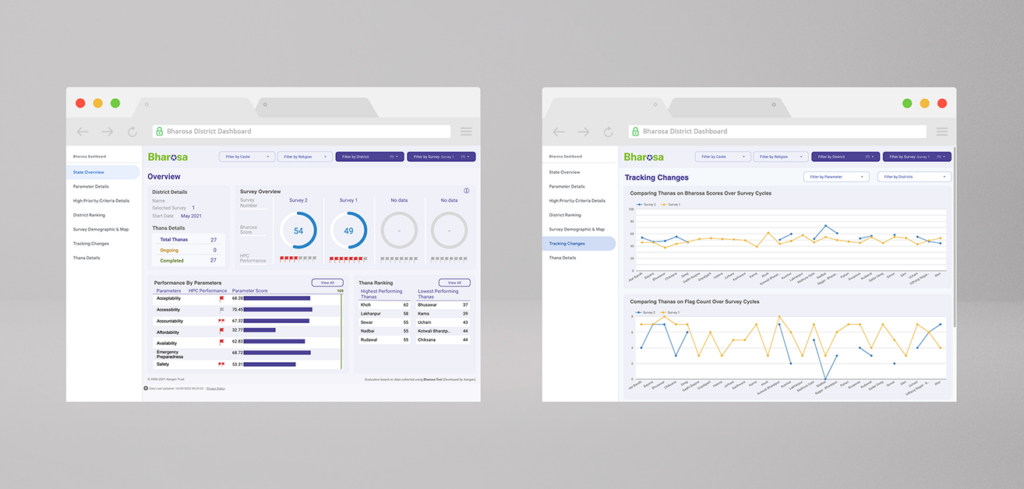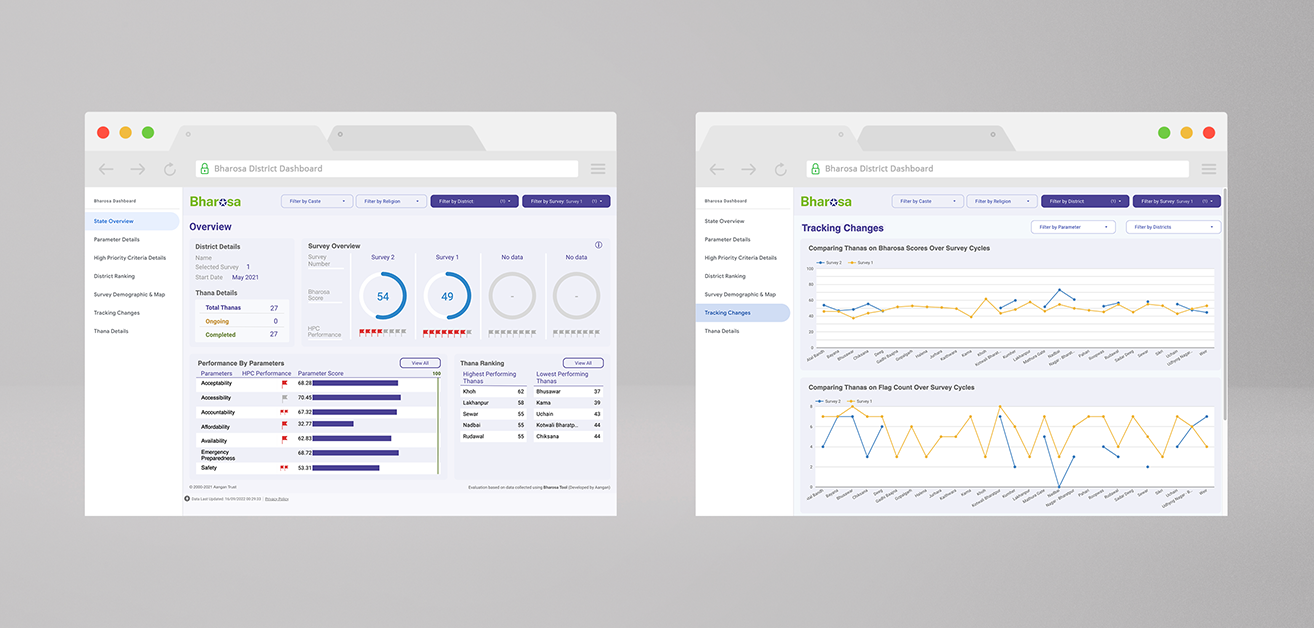 Survey results are tracked on a dashboard that can be accessed by local officials. This dashboard presents information in multiple formats and can generate granular insights about a range of parameters in real-time, as opposed to the month it typically took to produce them.
Eight questions in the survey are marked as critical indicators – If any of these received a negative response from 80% of those surveyed, a red flag would be assigned to the station.
Working towards Aangan's digital transformation has helped the organisation leverage data in new ways.