Godavari Biorefineries Ltd. (GBL) is one of India's largest producers of ethanol and ethanol-based chemicals as well as a slew of other products. Sugarcane is the primary raw material, and the company runs large-scale agriculture programs with sugarcane farmers who cultivate thousands of acres of land in the country. Guiding smallholder farmers to properly cultivate their land by implementing sustainable practices was a high priority for GBL's leadership.
Maintaining arability of land and improving farmer livelihoods in the region were both directly tied with GBL's long-term growth. The team wanted to expose farmers to validated sustainable farming practices alongside reliable precision-based farming tools.
Expertise
Systems Thinking
Product Strategy
UX & UI Design
Usability Testing
Design Research
OUTCOMES
Internal alignment on opportunities within the sugarcane lifecycle through systems mapping
Mobile app Kisan Khazana that combines a retail store with knowledge centre to keep farmers engaged and informed
APPROACH
BRND Studio was brought in to:
Capture the implicit and explicit needs of the farmer in maintaining the arability of land and thus securing their livelihood.
Identify opportunities and subsequently define a roadmap to realise the vision of sustainable farming
Create guiding principles for developing a mobile service that brings relevant information to farmers at the point of activity.
The team spent time with sugarcane farmers to understand their behaviours, needs and attitudes towards sustainability; as well as other stakeholders at GBL. 32 farmers and 29 GBL team members were interviewed. This research, combined with mapping the farmer's entire journey from seed to sale, led to a retail app where farmers could purchase eco-friendly products and view educational content to learn about the benefits of going green.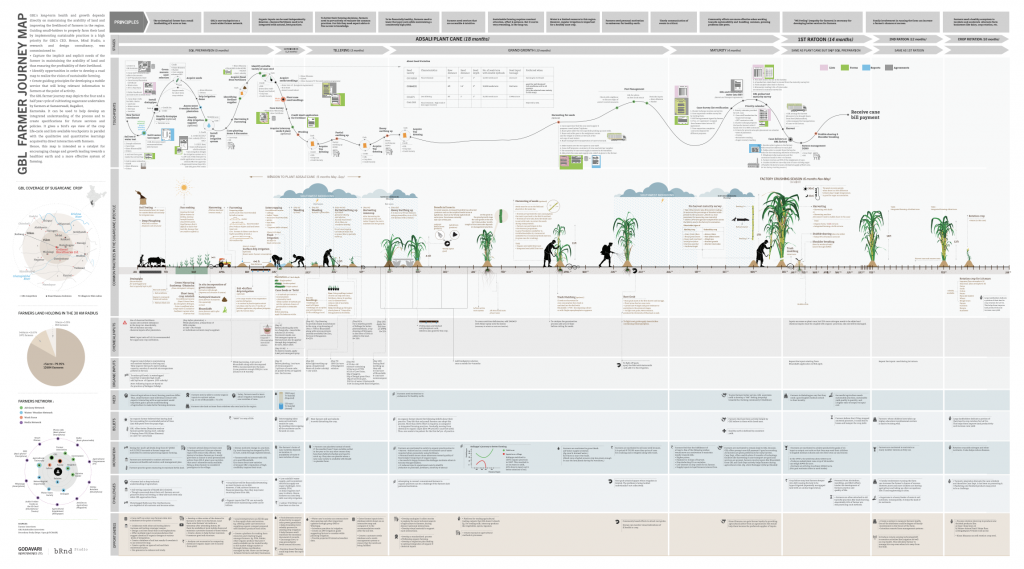 The first phase of research involved a deep dive into the lifecycle of the sugarcane plant. The "GBL Farmer Journey" depicts the four-and-half year cycle of cultivating sugarcane, as followed by farmers in Sameerwadi, Bagalkot, Karnataka. It lists available touchpoints in parallel with qualitative and quantitative learnings acquired from direct interaction with farmers. Providing an integrated understanding of the process, the map helped build empathy and a base of knowledge which could be used to generate specifications for future services and policies. It served as a catalyst for encouraging change towards a healthier earth and more effective system of farming.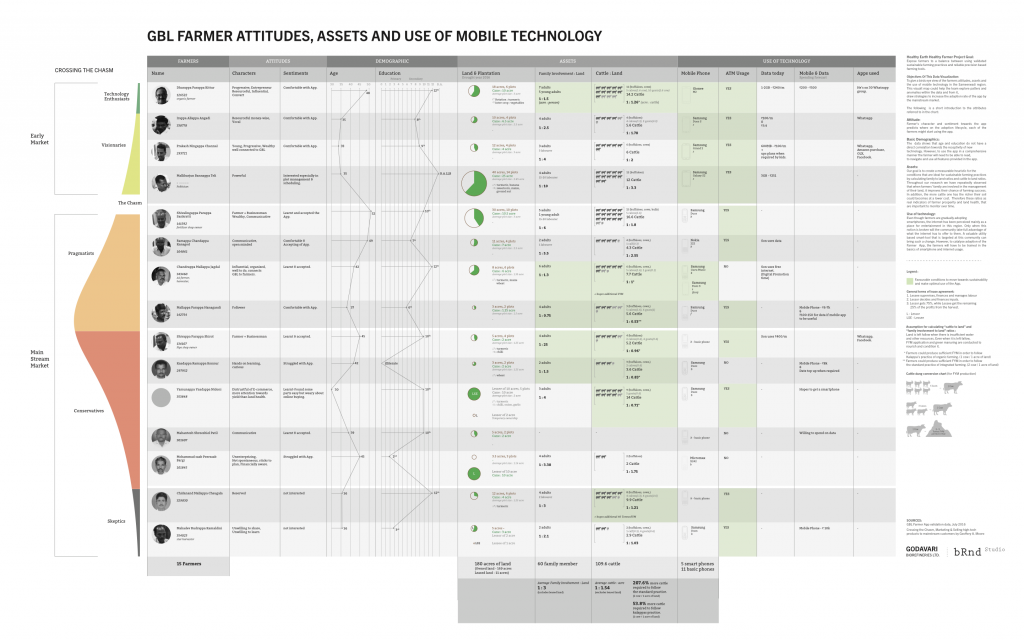 Another outcome of research was a visualisation of farmers' attitudes, assets and mobile technology use in the same region. This was designed to help the team explore patterns and anomalies within the data and develop strategies to increase the app's adoption.
Over 20 opportunities for interventions were identified through the research, which informed the creation of the mobile app, based on GBL's existing app Kisan Khazana. Some of the insights from this phase provided a more nuanced view about mobile phone usage. For instance, even though farmers were gradually using smartphones, the internet was still perceived as a place for entertainment. We realised that only once this notion was broken would the community take full advantage of everything the internet had to offer. This led to the hypothesis that a valuable, utility-based smart tool could bring in such a change. However, to catalyse adoption of the app, farmers would need to be trained in the basics of using smartphones and the internet.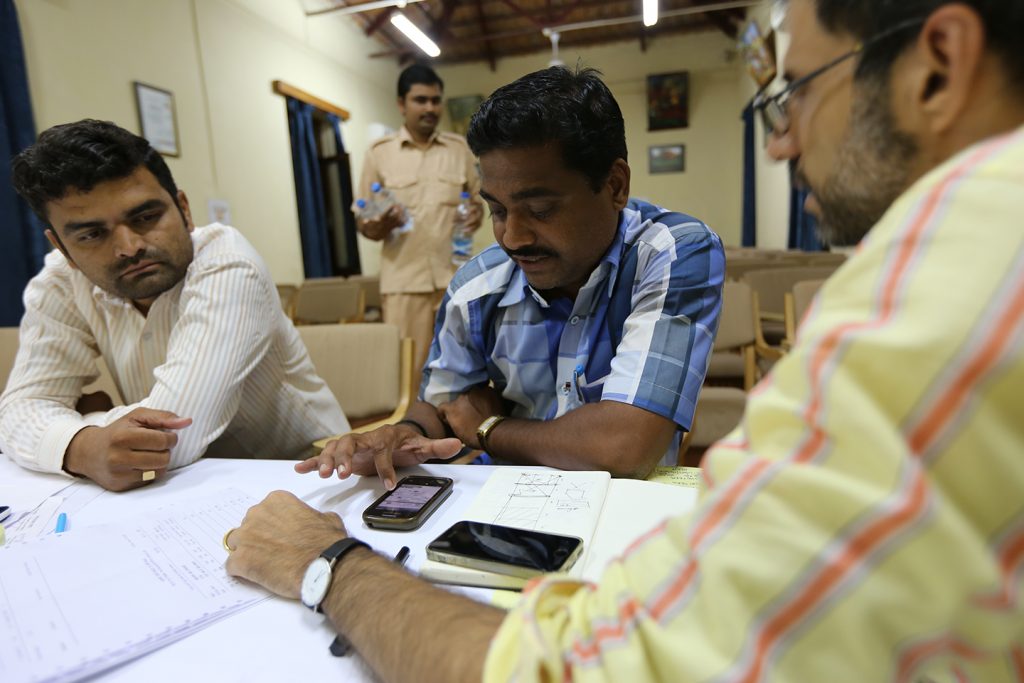 The Kisan Khazana app was re-designed keeping in mind the varying levels of digital literacy that existed among farmer-users. Prototypes were tested in the field and helped to refine functionality and understandability. To add to the stickiness of the app, we introduced a knowledge center where relevant, informative content that could help farmers improve size and quality of their yield, could be uploaded periodically.